577-583 Little Collins Street, Melbourne
Client: Sydney Road Holdings Pty Ltd
Project type: Mixed Use / Heritage Stakeholders
Stakeholders: City of Melbourne
Value: Approx. $40 million
Services provided: Due diligence advice, Planning Permit application

Images courtesy of Peddle Thorpe Architects
The project
Nestled in the western side of Melbourne's CBD, Little Collins Street is known for its heritage architecture, hidden bars and laneway 'cool'. Our client, Sydney Road Holdings, was interested in exploring redevelopment options for a site at number 577-583, which contained two co-joined Victorian-era warehouses. UPco was engaged to provide advice and planning throughout the process.

Our clients' goal was to build on the site's heritage structures, adding an 80-metre tower. The end result would be mixed use building, where 'Soho' split level tenancies would provide options for home working / living arrangements in high-amenity floor plan formats.

The development would also incorporate a 'through block link' to provide pedestrian connectivity from Little Collins Street to Francis Street, within a city block where such access is non-existent. Meanwhile, the heritage built form would be used for retail and personal services facilities (such as a gym or yoga studios), activating each streetscape and the interior 'laneway'.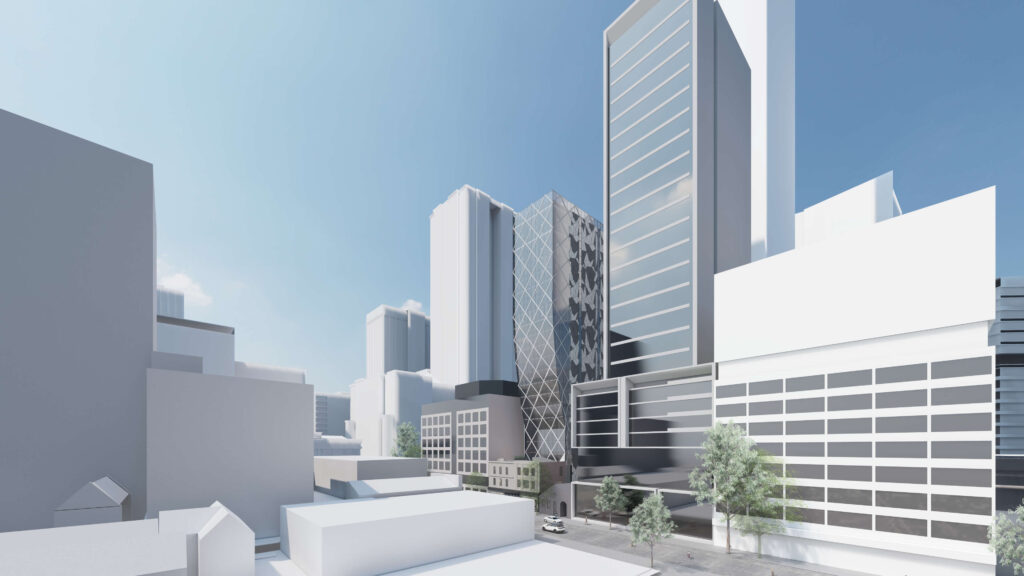 The challenge
Given the site's heritage, careful consideration needed to be given to every aspect of this redevelopment. UPco worked closely with the City of Melbourne to do just that – exploring the best approach for redevelopment, in parallel with the Council's reviews of its Urban Design and Heritage local planning policies.

It was pivotal that the retention, adaptation and reuse of the heritage buildings maintain the heritage qualities of each streetscape – and that the new buildings and works would sit comfortably with the retained heritage building and streetscape. UPco worked closely with the City of Melbourne to understand their concerns and to resolve these design challenges.
The outcome
By utilising the VCAT process, UPco was able to successfully negotiate a positive outcome with the City of Melbourne – and a planning permit was subsequently issued through mediation.