233 New Street, Brighton
Client: Buxton Group
Project type: Independent Retirement Living
Stakeholders: Cabrini Hospital, City of Bayside, PTV, local residents
Value: Approx. $20 million
Services provided: Due diligence advice, planning permit application

Images courtesy of thegrantonbrighton.com.au
The project
The Buxton Group has been creating five-star retirement villages since the 1990s, and has been an UPco client for many years. So, when they began the hunt for the site of their next village, we were happy to come on board to offer advice and expertise.

The chosen site at 233 New Street, Brighton, was zoned Neighbourhood Residential. But given its location at the western edge of Church Street Major Activity Centre (and south of the local Cabrini Hospital), we believed it was a very suitable location for a retirement village, and advised accordingly.

The vision for the development was a three-storey, larger format building that would provide 'high end' retirement living for over 60s, complete with parking, common facilities and studio apartments for overnight staff. In keeping with all of Buxton Group's villages, quality would be exceptional inside and out.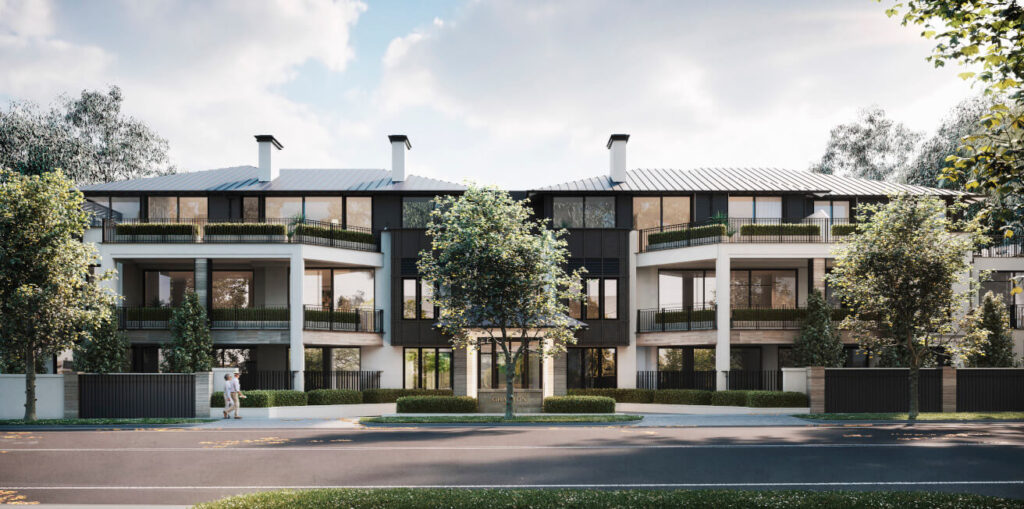 The challenge
Working as part of a large project team, UPco guided the form, height and setback of the design proposal – carefully minimising any impact on the neighbouring hospital and residents. Within those parameters, Demaine Partnership Architects and Tract's landscape team worked to deliver a built form and lush garden setting that could positively contribute to the character of the location.

The planning and design process did present some complex and related issues to resolve. This included the need to remove mature street trees and a nearby bus stop, to embed power underground, and to deliver a porte-cochère (a very important convenience in this type of residential development).
The outcome
Neither Council nor neighbours were sufficiently convinced of the project's planning and design merits to enable the issue of a permit. Happily, the suitability of the project for its strategic and contextual setting was ultimately confirmed by the Victorian Civil and Administrative Tribunal.

The Tribunal's favourable decision recognised our team's carefully considered response to the site's strategic credentials, and a site responsive analysis of interface conditions and area character.

Construction was completed in December 2019, and 'The Granton' is now home to a thriving retirement community.