Wreckyn Street, North Melbourne
Client: UniLodge Australia
Project type: Student Accommodation
Stakeholders: City of Melbourne
Value: $35 million
Services provided: Permit application

Images courtesy of Nettleton Tribe Architects
The project
When it comes to student accommodation, UniLodge Australia is a well-known name, with 80+ locations across Australia and New Zealand. In 2017, UniLodge set about adding a new property to that list, acquiring a large vacant lot at 15-17 Wreckyn Street, North Melbourne – close to Melbourne Business School and the University of Melbourne.

UniLodge engaged UPco to help obtain planning permission for a nine-storey student accommodation facility on the site. The proposed building would have a red brick base, with four building 'wings' on the upper levels. As well as studio-style and multi-share apartments, there'd be a large common games room opening up to a central landscaped courtyard on the ground floor – along with a music room, gym and retail fronting Wrecklyn Street.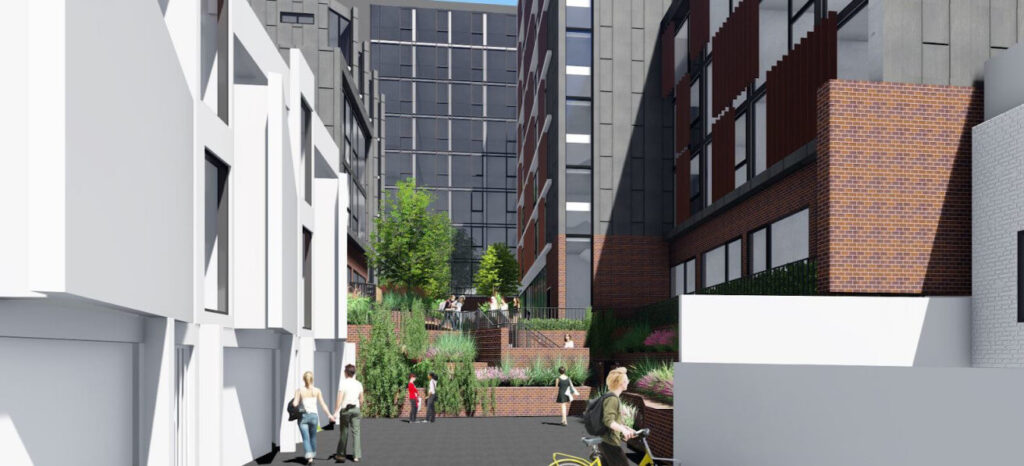 The challenge
One of the key challenges of the project was the fact it had several interfaces (to Vale Street, Vale Place and Hotham Place). Each of these interfaces had specific issues that needed to be addressed – including the building's impact on neighbours, and its appearance in the context of the overall streetscape.

UPco worked closely with all stakeholders to understand and resolve these design challenges. Amongst other things, we had to negotiate the sensitivity of adjoining land uses, the street wall height, and the multiple built form requirements under the applicable Design and Development Overlay.
The outcome
While concerns were raised by objectors throughout the planning process, UPco was able to successfully address these to obtain support from the City of Melbourne, and a council-issued permit. Construction began shortly afterwards, and the facility was opened in 2019. Known as UniLodge Royal Melbourne, the building's sophisticated architecture is a great addition to the North Melbourne area – and its residents can enjoy a vibrant living environment with great access to study options. UPco is proud to have played a part in making the project a reality.