Fitzroy Street, St Kilda
Client: Victorian Pride Centre
Project type: Community / Mixed Use
Stakeholders: City of Port Phillip, DELWP, DPC, DTF, DHHS, DEDJTR, DJR, local community
Value: Approx. $50 million
Services provided: Planning advice, facilitation and preparation and implementation of a planning scheme amendment (rezoning and specific control overlay)

Images courtesy of Grant Amon Architects & Brearley Architects / Urbanists
The project
St Kilda's Victorian Pride Centre is the first civic building of its type in Australia: a civic hub dedicated to supporting the LGBTQI+ community. The centre brings a host of facilities together in one mixed use building: office space, shops, drinking and dining a gallery, medical centre, radio station and more. Essentially, it's like nothing Melbourne or Australia has seen before – and a landmark development for us as a nation.

The Pride Centre has been designed by Brearley Architects and Urbanists and Grant Amon Architects, two local St Kilda architecture firms who won a national design competition for the project (which was announced by the Premier for Victoria in January 2018).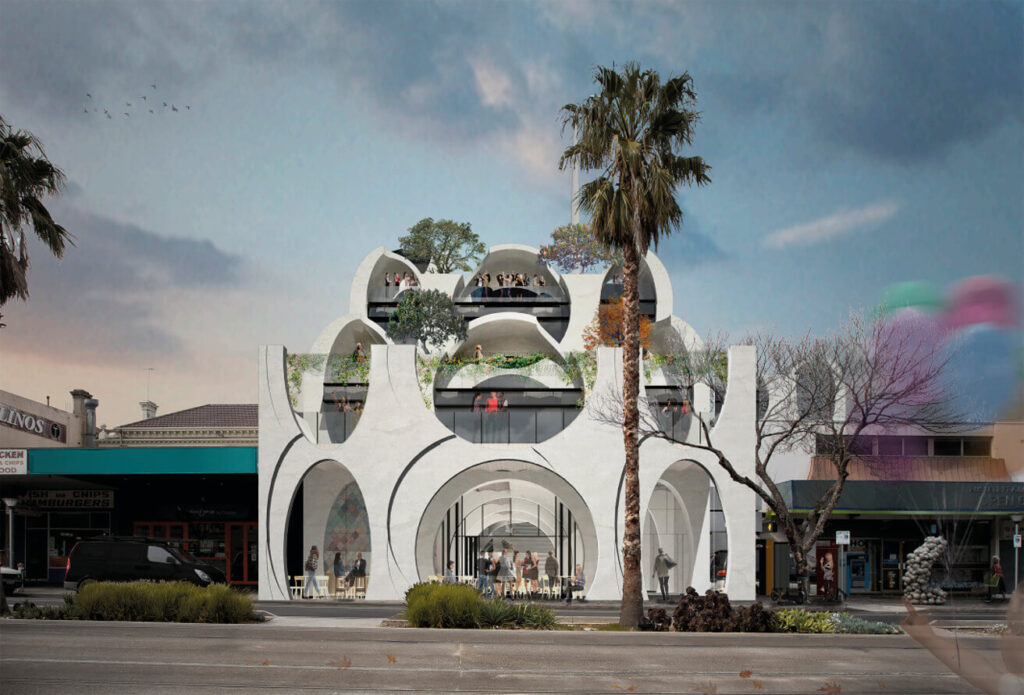 The challenge
UPco was privileged to have the opportunity to work collaboratively with all stakeholders to make the Pride Centre plan a reality. This involved producing a site-specific control and facilitating the planning approvals process.

One of the key challenges was finding an efficient way to enable the construction of the Pride Centre within a relatively short timeframe within the context of an existing planning framework that was not fit for purpose. UPco delivered on this by requesting that the Minister of Planning make an amendment to the Port Phillip Planning Scheme, effectively rezoning a portion of the land from a public use zone to a commercial zone (via Section 20(4) of the Planning and Environment Act 1987) and creating tailored controls around land use and design that were specific to the site. The project was subject to an extensive community consultation process.
The outcome
The proposed amendment received great support from many key stakeholders, including the City of Port Phillip, and local community members who are excited to welcome the Pride Centre to their neighbourhood. After gaining approval for the amendment from the Minister for Planning, UPco went on to assist and advise the Victorian Pride Centre team throughout the remainder of the planning process – ensuring all documentation was taken care of along the way. Construction on the Pride Centre began in February 2019, and the project was completed in mid 2021 with the Victorian Premier, Daniel Andrews, officially opening the centre on 11 July 2021.